The committee intends its activity Globally without constraints of gender, religion, ethnicity.
It is open to the contribution of all those who intend to make their own personal contribution.
All FMA countries contribute to the committee through the publication and dissemination of related content.
FMA has always firmly believed in the values of gender equality and is against any type of social discrimination.
Over the years various activities have been carried out. In 2016, the President of the Italian Republic awarded our company with a Medal of Honor for the social contribution offered.
In carrying out its mission, the FMA committee for Gender Equality refers to, supports and disseminates the programmatic guidelines set out by the:
System-Wide Strategy
on Gender Parity
Issued by United Nation
on October 2017
ILO Action Plan
for Gender Equality
International Labor Office
2018-21
We are extremely proud of our Gender Equality Committee (GEC) project - News section.
FMA has always been at the forefront to fight against inequalities and discrimination in all their forms and manifestations, in order to sensitize and generate greater awareness of how much injustice and inequity exists in the world of work but not only.
The fact that each FMA country has contributed actively and willingly to the realization of this initiative means that the GEC is a melting pot of heterogeneous and disparate ideas, points of view and experiences.
By doing so, the articles that we publish have the power to give a glimpse, albeit at times alarming, of our global society, of the events and situations that occur indiscriminately in every part of the world.
Take a look to our GEC news section!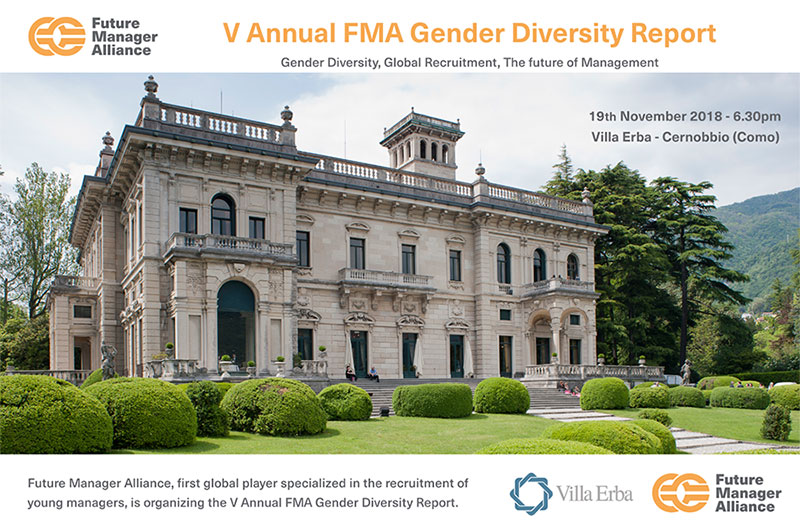 Gender Diversity Report 2018
Gender Equality, Global Recruitment and Management in the Future: these are the topics addressed during the " 5th Annual FM Diversity Report " held on November 19th 2018, at the evocative location of Villa Erba, in Cernobbio (Como).
Through the sharing of experiences and reflections of top corporate managers, FMR constructs a photograph of the current situation and analyzes the ways in which the theme is addressed from the business world.
Gender Diversity Report 2017
The aim of the research is to provide a picture of the behaviors and perceptions of Italian graduates, both regarding the university career and the work environment, and comparing the results obtained among the male population to the female population.