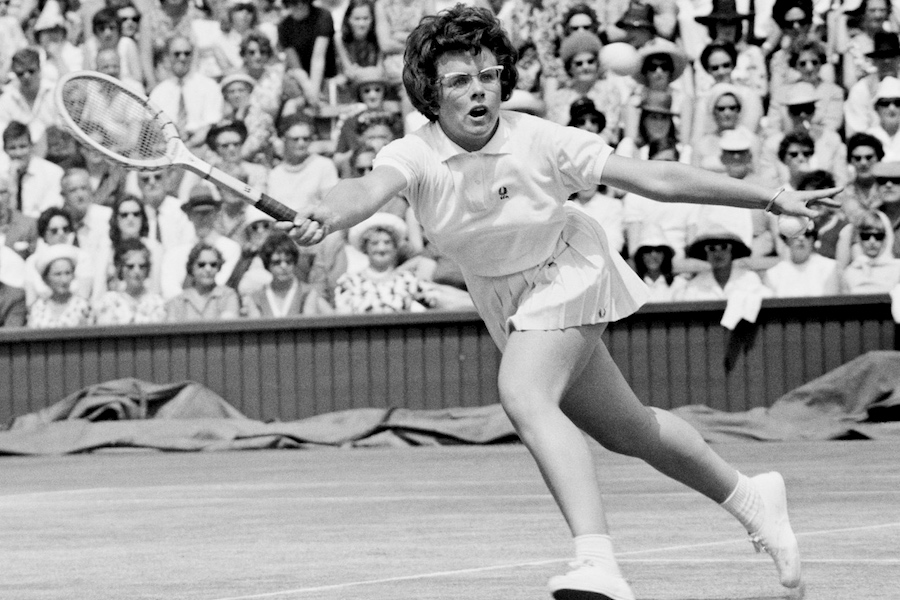 Author: Future Manager Research Center
"Any woman born around 1943 has had to endure so many changes – in her educational experience, in her working life, in sex, in her roles, her expectations. But with me, it always seemed like I was also on the cutting edge of that change."
This sense of being ahead of her times, a trailblazer on a variety of personal and professional fronts, characterizes many aspects of Billie Jean King's life. Her maiden name was Billie Jean Moffitt, born on the Pacific coast, precisely in Long Beach (CA), on November 22, 1943, and later became one of the most famous athletes in tennis history. Fearless and bold in public but more conventional in private, a lioness on the playground but also in life, a woman who has exposed herself in support of battles in which she has always believed as the struggle for gender equality and against all kinds of discrimination.
Her parents, a housewife and a firefighter, were two traditionalists, methodists, hyperpatriotic and anticommunist. This inclinations were probably one of the reasons why the two children began to play sports as a relief valve. Her brother Randy became passionate about baseball and later became a professional player, but Billie Jean chose a different path, with the desire not to grow up to be a typical housewife like her mother or struggling to get by on a firefighter's salary like her father. When a classmate introduced her to tennis, she immediately fell in love with this sport. Motivated, focused, and single-minded in her determination to get the top, even from a young age Billie Jean Moffitt fit the personality type likely to succeed at tennis.
When she started her career, there were just a few ranked female players who played in shorts, because women competed in demure tennis dresses or skirts that almost reached their knees. The tennis world was extremely hierarchical but, even if Billie Jean deplored the haughtiness of its culture, she loved the game too much to just walk away from it.
In June 1961, she graduated from the Long Beach Polytechnical High School and the same year she participated for the first time in the Wimbledon tournament by winning the women's doubles paired with Karen Hantze Susman. Then she entered Los Angeles State College as a common student, even if she was already a nationally ranked tennis player.
In her return to Wimbledon in 1962, she beat reigning champion Margaret Smith (even if she didn't have the same fortune the following year) and, together with Ken Hantze, repeated the women's double victory.
Shortly after, she managed to get the better of the number one in the world ranking, the Australian Margaret Court, at the All England Lawn Tennis and Croquet Club. To win the Venus Rosewater Dish, however, she had to wait three years when, irony of faith, she showed up no longer as Miss Moffitt, but as Mrs King. In fact, Billie Jean had recently married Lawrence King, a law student.
Her career from that moment on was studded with countless awards: between 1966 and 1974, she won six titles at Wimbledon, four at the US Open, one at the Australian Open and one at Roland Garros. Retiring as a singles player in 1983, after a season that saw her reach the semi-final at Wimbledon, Billie Jean King played her last official match in the second round of the Australian Open when Catherine Tanvier surpassed her with a score of 7- 6, 4-6, 6-4.
The social battles waged by Billie Jean King are as famous as her sporting victories: in 1967, Mrs. King accused the United States Tennis Association of giving female players negligible sums of money compared to what male colleagues received. She reaffirmed this concept at the Era Open by launching a campaign in favor of equal earnings. When she won the US Open in 1972, she received $ 15,000 less than Ilie Nastsase and threatened that if the following year the payout was not identical to the men's one, she would not play. And so, in 1973 the U.S. Open became the first major event to offer equal cash winnings to both men and women.
However, the event that really marked American history not only from a sporting but also from a social point of view was the famous "Battle of the Sexes". Everything started with the former leading tennis player in the 1940s, Bobby Riggs: after his retirement, he began criticizing the quality of the female players. With media attention growing, he claimed that at the age of 55 he could still beat any female player and actively began seeking opponents. The best female player at the time was Margaret Court, who accepted the challenge and played against him on mother's day 1973, but Riggs easily defeated her. He sought another female opponent and focused his attention on Billie Jean King. As expected, she didn't hesitate a second and agreed to play him in a televised match that drew an estimated worldwide audience on 90 million people. The winner of the "Battle of the Sexes" would have win a hundred thousand dollar. The match took place at the Houston Astrodom on 20 September 1973. Billie Jean King annihilated her opponent with the famous set series "6-4, 6-3, 6-3" and brought significant attention not only to the sport of women's tennis, but also to sexual equality in general.
Convinced that women have the right to be able to have abortions, King has never spared herself in supporting both the fight against AIDS and opposing the most varied types of discrimination against minorities. Not surprisingly, Elton John's "Philadelphia Freedom" is a song dedicated to her. A champion, a woman, such a bulky character that when Michael Jackson presented his producer with the demo of "Billie Jean", the record company proposed to call it "Not My Lover" (they were convinced that people would think that the singer was having an affair with the tennis player).
Billie Jean King has never taken a step backwards whenever, her philosophy of facing sport and life is the only one worth pursuing for Mrs.King, given that, as she has always said:
"a champion is afraid of losing. Everyone else is afraid of winning ."