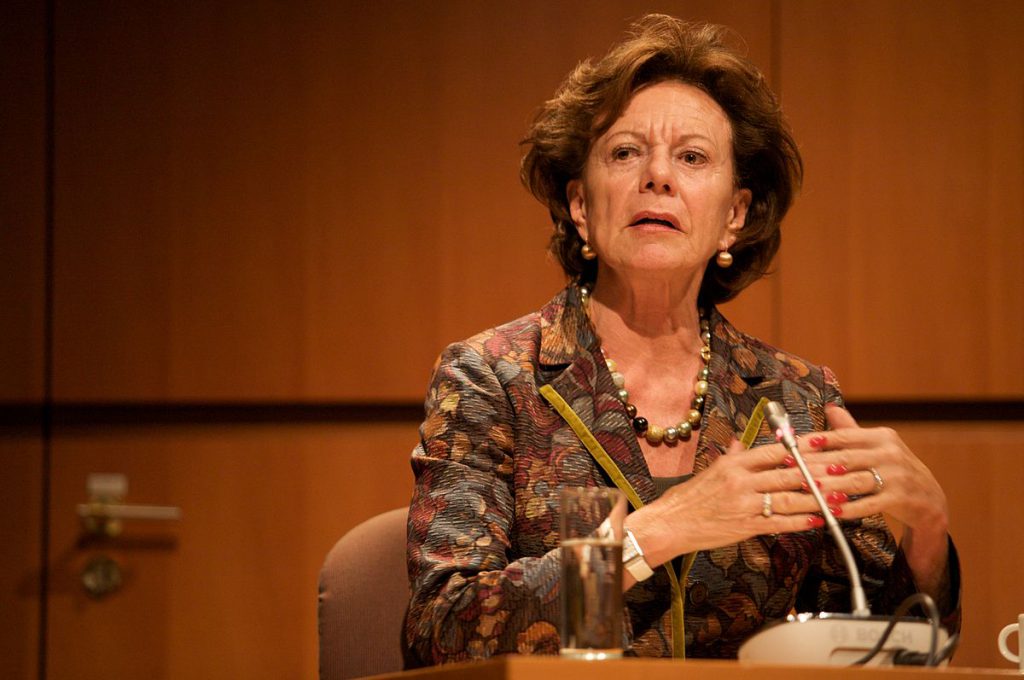 Author: Future Manager Research Center
"My advice for more women in top jobs: be daring, claim and enjoy your position at the table, introduce other great women. You already make the difference by being female. To organisations: equality is a success if for every mediocre man you select with the same ease mediocre women."
Neelie Kroes was born on 19 July 1941 in Rotterdam, Netherlands. She is a retired Dutchpolitician of the People's Party for Freedom and Democracy (Volkspartij voor Vrijheid en Democratie, VVD). This famous businesswoman served as European Commissioner from 2004 to 2014, where she was responsible for the Digital Agenda for Europe (2010-2014).
Kroes attended a Protestant grammar school in Rotterdam then she continued to a Protestant high school. In 1958, she went to study economics at the Erasmus University in Rotterdam. In 1961, Kroes was praeses of the R.V.S.V. (the largest Rotterdam sorority). She was also elected as a member of the University Council. After obtaining a Bachelor of Economics and later a Master of Economics degree in 1965, she became a research fellow at the economic faculty at that University. During this period, Kroes was involved in the women's organisation within the VVD.
She spent a big part of her career in the family business (her father owned the transport company Zwatra) and as a professor at the Erasmus University. It was however, in 1971 when she began her ascent in politics, first as a member of parliament Netherlands, then she served as the Dutch State Secretary of Transport and Water Management from 1977 to 1981 and subsequently was appointed as the Minister of the same department.
After her time as minister, Kroes became a member of the Rotterdam Chamber of Commerce and, in 1991, she became chairwoman of Nyenrode University, a private business school and served on the boards of various Dutch companies. As chairperson of Nyenrode Business University, Kroes awarded an honorary doctorate to Microsoft founder Bill Gates in 1996.
After her activity in national politics, Neelie Kroes was appointed the European Commissioner for Competition in 2004. She was the first woman to hold this post, but initially her nomination was heavily criticized because of her perceived ties to big business and because of her alleged involvement in shady arms deals. Over the years, Kroes has tried to uphold her integrity: she won over her previous critics and has proven both her integrity and business acumen. Her directness and straight talking approach as a tough defender of free markets has earned her the nickname "Nickel Neelie."
In 2008, Neelie was awarded the prestigious Kiel Institute Global Economy Prize, the first woman to receive this honor, which is given in recognition of ground-breaking thinking and mediation in the challenging times of globalization. Her contributions have also been recognized by other awards including being named Knight of the Order of the Dutch Lion, and Grand Officer of the Orange-Nassau of the Netherlands. In 2008, she was named as one of Time Magazine's 100 Most Influential People.
Regarding her commitment to fighting gender inequality in the business world, it is clear that Neelie is a passionate advocate for greater representation of women in senior business and political positions and considers her function as a role model and mentor of women as a great privilege. On several occasions, she advocated for feminist policy interventions to identify gaps, expand frameworks and create, in essence, "gender sensitive" policy to acknowledge and distinguish between the various socioeconomic positions of men and women, recognizing relations that arise from these positions. Neelie Kroes has always been bothered by business leaders who justified themselves for not hiring a woman from their ranks and she stated:
"I don't buy the argument when someone tells me he can't find women to hire. I tell them 'go see your eye doctor!'."
Neelie Kroes kicked off of the ambitious Female Tech Heroes network, which was launched in 2019, as part of Dutch Technology Week, at High Tech Campus Eindhoven. More than 600 tech women were present for a day of presentations and debates on the theme of women in tech. Kroes believed and still believes that women are underrepresented in tech and that needs to change. That's why she supported this great initiative, in order to make women enthusiastic about technology.
Kroes has held and still holds many side offices, mainly in cultural and social organisations. She is chairperson of Poets of all Nations, the Delta Psychiatric Hospital and of the board of the Rembrandt House Museum. Then, at an age when many have already retired, Kroes was asked by the Dutch government to act as special envoy for startups and scaleups. In short, Neelie Kroes is still an avant-garde woman, sensitive to the issues of gender equality and a leading figure in the business world.